Project 01: Conway's Game of Life
Outline
Program Introduction
Simulation by Hand
Program Usage
Get Started!
Conway's Game of Life
0 player game played on a grid of squares
Each cell (square) can be alive or dead
Next step/generation determined by current configuration

each cell has 8 neighbors
whether a cell is dead or alive in next generation depends on number of alive neighbors
Your Task
Complete implementation of Conway's Game of Life
Experiment and find "interesting" initial configurations
The Challenges
Understand and work with a larger program

given a lot of code, much of it unfamiliar
understand structure enough to work with the code

Implement Life
Use your program to experiment!
The Rules
"Game" played on square grid of cells
each cell has 8 neighbors
cells can be in one of two states: alive or dead
system evolves in rounds
Each Round
State of each cell in the next round is determined state in this round:
If cell is alive and 2 or 3 live neighbors, it stays alive
If cell is dead but has 3 live neighbors, it becomes alive
Otherwise, cell is dead in next round
Simple Examples I (Red = Alive)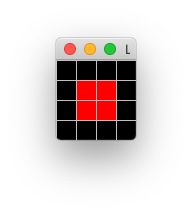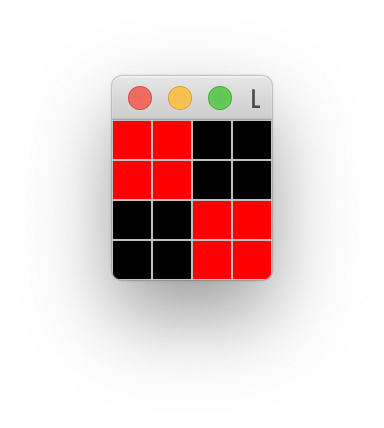 Simple Examples II (Red = Alive)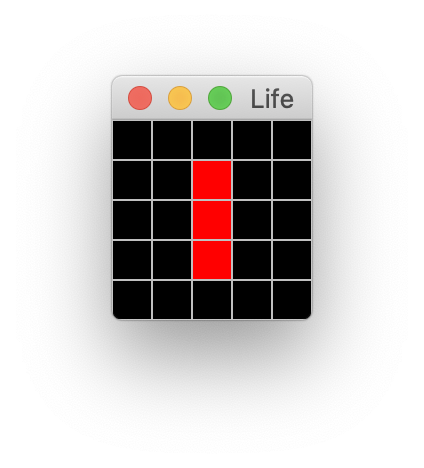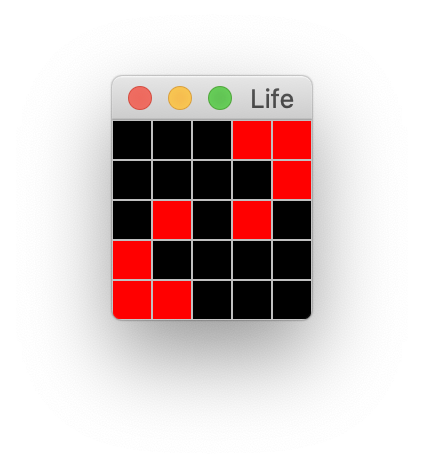 Using the Program
Compile and run from terminal
Terminal usage:
java Life <init file> <no. of generations> <interface: Graphic or Text>

Why do People Like CGoL?
Simple rules, unexpectedly complex behavior
Behavior is provably unpredictable

given two configurations there is no algorithm that determines whether a game started from the first config eventually reaches the second

Can "program" certain behavior

Life can simulate an arbitrary computer program
Initialization File Structure
4 4     // dimensions of board (square)
1 1     // coordinates of alive cells 
1 2
2 1
2 2